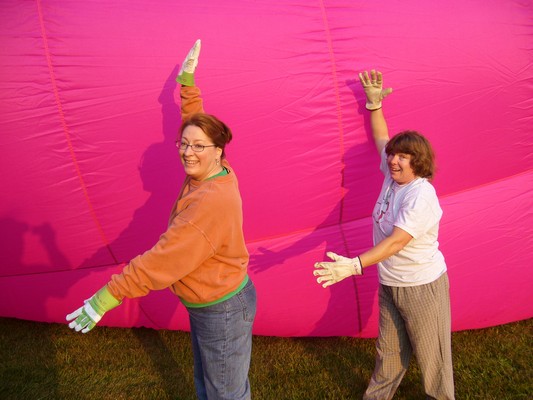 The 'Toter's job is to help the crown line person(s) pull the envelope bag out during the initial inflation, and then to carry the empty bag back to the trailer or truck. The pilot should designate a location to put the bag, such as inside the side door of an enclosed trailer. Toters carry things as needed, so most crew members become a toter on occasion.
Floofers help with the inflation by grabbing the envelope fabric at the load tapes and gently pulling it out to allow more air to fill the balloon. A good technique is to walk toward the inflating balloon with your arms rotating backwards (think robot style), then when about halfway inside, turn around, keep your hands up, and walk out with it over your head. This allows for more lifting of the fabric in lieu of just pulling it. You will need to do about two areas of the balloon per side. Be careful not to snag or pull too hard. The goal is to have the fabric fully spread-out and tight where it touches the ground.
When these jobs are completed, the crewmembers go to the bottom of the basket and put on all their weight.

Proper Floofing Technique in Slow Motion, kinda.