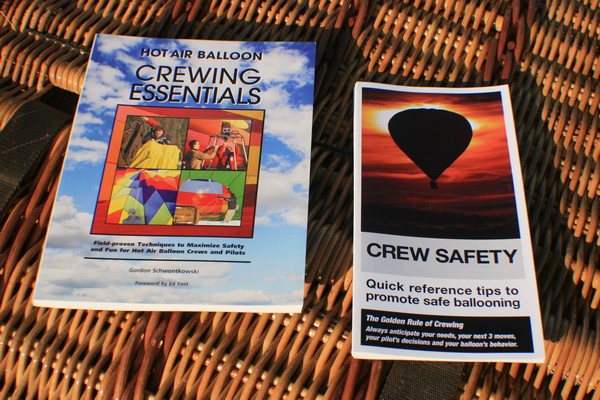 For those who want to learn more about Hot Air Balloon crewing, we recommend these materials by Gordon Schwontkowski.
HOT AIR BALLOON CREWING ESSENTIALS
Simply the most comprehensive book on crewing ever available. The how-to standard on crewing takes readers from safety basics to advanced techniques at every stage of flight. Crew like a pro in no time - a must-read for both pilots and crew. Contains 30 chapters and 220 pages of crewing expertice.
$20 each, 5 for $90.
CREW SAFETY Tri-fold Card
Quick reference for local emergency #s, power line safety guidelines, and 300 tips from layout to landowner relations. Great training outline for new crew or refresher for seasoned crew. Airline-style for your truck's seatback, visor, or door pocket. Glossy coated cardstock.
$5 each, 5 for $20, 12 for $35.
CREW CHIEF'S CORNER
Fifty-two article series for club newsletters or websites instantly offers years of ready-to-go 2 to 3 page safety articles or instant content club members can reference anytime. No more last-minute pleas for articles - the fastest way to the highest safety standards for entire clubs of crew!
$149 (terms of agreement apply)
SAVE-A-BUNDLE Bundles
Book + 6 cards - $35
2 books + 12 cards - $65
ORDER INFORMATION
Please add $6.00 shipping to any order.
Make checks payable to:
Gordon Schwontkowski
82 Silver Tree Circle
Cary, IL 60013