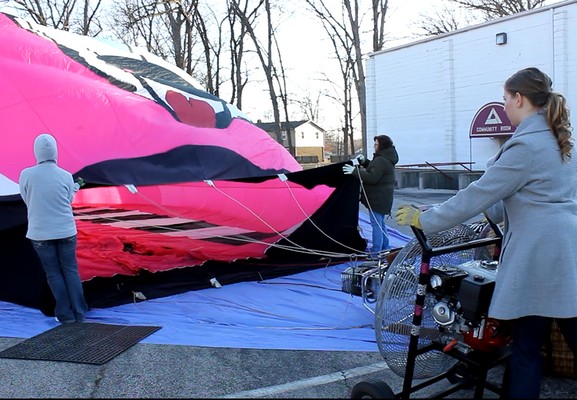 The throat crew's job is to hold the mouth of the balloon open so the fan can fill it with cold air. Clear any debris between the fan and the envelope. The pilot will position you at your station.
While facing the top of the balloon (away from the fan), place your foot inside the throat. If you are on the left side, use your right foot. If you are on the right side, use your left foot. Pull your foot to the outside so the bottom part of the throat is tight and flat on the ground. Try to keep any air from getting underneath the envelope. On the right side may be a small white electrical wire that should not be stepped on. Hold the envelope by the suspension cables (with your gloves on) as high as you can to allow the air to fill the balloon. This will get easier as the balloon inflates.
If it is a little breezy, the balloon may want to roll from side to side. Do your best to hang on, but if you need to change hands to a lower/higher rope, don't just "let go". Ease off of one while pulling on the other so the balloon doesn't roll as easily. Be sure to have your feet on the outside of the ropes to eliminate getting tied up.
When the balloon is "cold-packed" and the pilot is ready for hot inflation, he will signal you to gently release the throat, move around the basket, and put weight on the back of the basket. The pilot will then fire the burners and heat the air, causing the balloon to rise. As it rises, watch your feet and let the basket come up with the balloon. Keep your full weight on the basket while always keeping one foot on the ground at all times. Be careful around the tie-off rope.